The Schmid Family Farm U-Pick Marionberries & Blueberries
These jams and syrups are made with berries that have been certified as genuine marionberries. Marionberries are said to be the "Cadillac" of the blackberries because of their superior flavor. Most orders will be shipped 1-2 days after the order is received.
Marionberry Syrup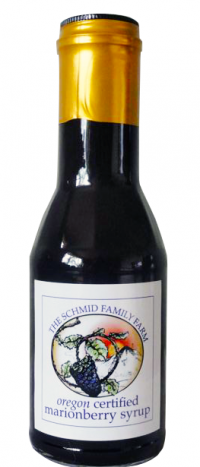 Marionberry syrup is not just for breakfast. It is great over ice cream or cheese cake, and has been used in a BBQ sauce and as a marinade. Just use your imagination.
THIS ITEM IS SOLD OUT
Price $5.50
Marionberry Jam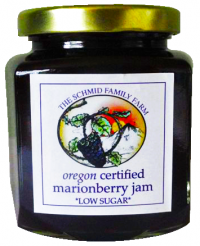 This is a low sugar jam. The lower sugar content allows the flavor of the berry to come through. This jam can be used in a variety of ways, such as a sauce over cream cheese, which makes a delicious appetizer with crackers. It is also great over ice cream.
THIS ITEM IS SOLD OUT
Price $5.50
Your Cart